"Corey was excellent! He was professional, respectful, and personable. I loved talking with him and I learned a lot. He was able to answer all my questions and address my concerns."
Ashley E.
Have no fear, Blue Beetle is here! Owner and Bug Baron, Mitch Shipman was born and raised in Kansas City. With a business degree from Rockhurst University, a passion for entrepreneurship, and prior pest control experience, Blue Beetle has been #KillingIt since 2003.
Mitch originally ran his business from his home in Waldo and kept supplies in the shed in his backyard. After three years of growing and developing his business by himself, Mitch was ready to start adding to his team. It's the dedicated employees that helped shape Blue Beetle into what it is today. John Bauer, one of Mitch's first technicians, is still employed today!
Mitch's motto is to use the company to give back to society with donations and free service to organizations such as St. Jude's, Operation Breakthrough, and multiple churches. The company is also used to benefit its 60 plus teammates/work family in personal growth, opportunity for education and advancement in knowledge and income. "The company is a tool to give back to my team and the world. Everyone wins. The customer, the teammate, myself, and society"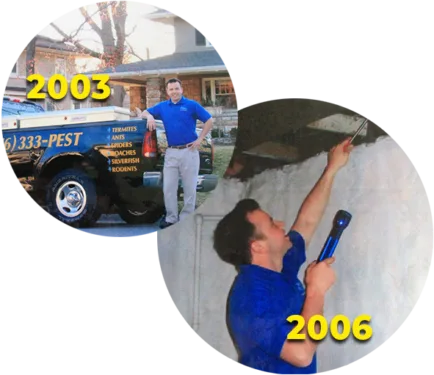 Now located in Leawood, with over 20 years of personalized service and over 60 HEROES on our team, Blue Beetle is one of Kansas City's most trusted pest control service providers. Blue Beetle was voted Best Pest Control in KC by The Pitch three years in a row. Our commitment to getting the job done right the first time separates us from our competitors.
Blue Beetle is a company with a proud history and a promising future. We stand on a foundation of training, growth, and improvement. Each day we make significant investments in our people, management, and services to ensure your property is being treated with the best care. Our goal is to better serve our customers, team members, business partners, and community. We have certain values and choose not to do business with casinos, adult book stores, strip clubs, or cigarette and vape shops. We take pride in our culture and our dedication to keeping clients happy. Our heroes have the experience and knowledge needed to solve any pest challenges you might be dealing with. They give you all the tools and resources you need to make a sound decision for your family, lifestyle and budget.