"Corey was excellent! He was professional, respectful, and personable. I loved talking with him and I learned a lot. He was able to answer all my questions and address my concerns."
Ashley E.
$20 Off
Take advantage of our special offer and get full pest protection for your home, all year long.
Schedule Your Pest Inspection!
The #1 Bed Bug Exterminator in Kansas City!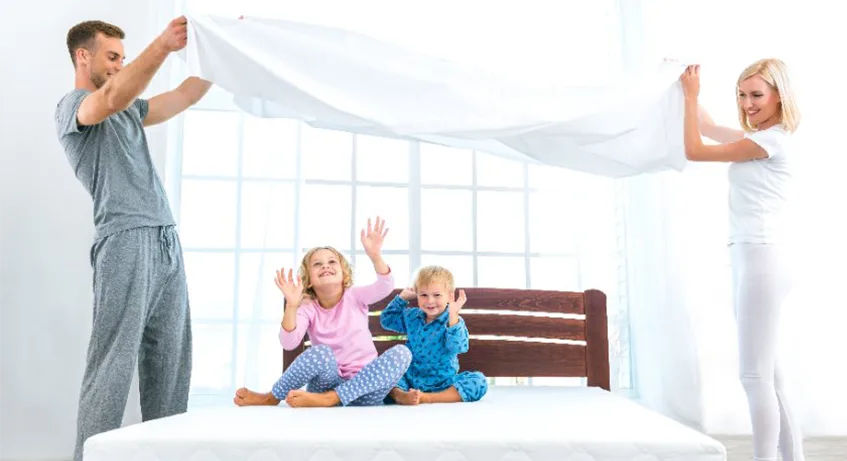 Bed bugs hide in small crevices and often hitchhike in luggage, furniture, clothing, and boxes. Used furniture such as mattresses and bed frames are among their favorite places to live. Bed bugs are hard to find in the beginning of an infestation, and even more difficult to completely eliminate from your home or business without professional help.
The movie theater, the bus, a doctor's office, and even your friend's house are just a few of the many places you can pick up bed bugs. Unfortunately, keeping your home clean is not much of a deterrent for bed bugs. They only need one thing to live – human blood.
When it comes to bed bug extermination, all treatments aren't created equal. The heat treatment is quick and highly effective while the spray treatment will require more than one application. Both treatments are offered with a warranty period to ensure your satisfaction is 100% guaranteed.
  Treats Mattresses Only
  90 Day Emergency Call Back
  Budget Friendly
Our bed bug heat treatment is the best solution for same-day elimination. Our heat treatments have a 99% success rate and are backed by a 60 day warranty.
We'll start with a thorough inspection to confirm bed bug activity in your home. After confirmation, we use discreet, portable equipment to heat your home above 125 degrees for at least 90 minutes. Fans circulate the heat to reach all of the cracks and crevices bed bugs may be hiding. Throughout the treatment process, our heat specialists will monitor the temperature throughout your home to ensure all rooms are being heated properly. We combine our heat treatment with a chemical application so that any remaining bed bugs you could potentially bring in from your car or your work are eliminated as well.
Our heat treatment process does require you to be out of your home for about 8 hours, but you'll come home to the peace of mind knowing you're bed bug free!
Print your Heat Treatment Checklist (PDF)
Download Checklist
Our spray treatments require much less preparation than a heat treatment, but the treatment process is much longer. Retreats are required every two weeks and depending on the level of infestation, can take up to two months for total elimination. However, with patience and excellent preparation, spray bed bug treatments are a budget-friendly solution that do work.
Bed bugs hide within a 15 foot radius of where you sleep or sit the most. In the middle of the night is when they leave their hiding places for a blood meal. As they travel to you, they're picking up the spray on their feet. When they return to their hiding place, they lick themselves clean and ingest the particles. Bed bugs only have to feed every seven days, and we have to wait for the eggs before the spray will affect them as well. This is why a spray treatment can be such a long process.
Print your Spray Treatment Checklist (PDF)
Download Checklist
Why Blue Beetle Pest Control for your home
We understand the importance of keeping your family safe and your home pest free all year long. Our highly trained technicians use eco-friendly, non-toxic treatments that are 100% safe for your children and pets.

With Blue Beetle, it's always safety first!
Our Basic, Premium and One-Time Happy Home Program services are pet-safe, eco-friendly, and they're less toxic than table salt.

Your satisfaction is always 100% guaranteed
You can rest easy, knowing that we back up our work with our 100% guarantee. If for some reason you aren't satisfied, we'll keep working until you are.

Blue Beetle has a proven track record!
800+ 5 star rating on Google and awarded Best Pest Control in KC 2018, 2019, 2020 AND 2021.
Frequently Asked Questions About Bed Bugs
How to identify bed bugs?
Adult bed bugs are about the size of an appleseed. They are reddish-brown in color and have flat, round bodies. After feeding they become elongated, plump, and more red in color. Nymphs (baby bed bugs) are almost translucent in color, while eggs are white and smaller than a grain of rice.
Bed bugs can be picked up anywhere people sleep or sit for long periods of time – homes, apartments, hotels, movie theaters, public transportation, and even hospitals. They can hitch a ride to your home in your suitcase, purse, or in your clothing.
Where should you look for bed bugs?
Catching an infestation early on is critical.
The longer bed bugs are in your home, the harder they are to get rid of. That being said, bed bugs are known to be professional hiders, so finding them in the first place is a challenge in and of itself. They may be found:
• In mattress or furniture seams
• In the crevices of bedside tables or headboards
• Inside electrical outlets
• Behind picture frames or loose wallpaper
• Underneath the carpet up against the baseboards
It's unlikely that bed bugs will be found in areas like the kitchen or the bathroom. They are ultimately lazy bugs that don't like to travel, so they'll wait in or near the couch or the bed until about 3 to 5 AM, which is when they come out to feed. Even if you happen to have a bed bug or egg on your clothes, which you leave on the bathroom floor or throw in the closet, they will eventually leave the area to be as close to your resting areas as possible.
Since bed bugs have survived for hundreds of years by hiding, it is inevitable that sometimes you just won't find one. There are a few other tell-tale signs you can look for:
• Blood spotting on sheets – when bed bugs feed they often "void" they blood they've ingested in order to make room for more
• Fecal spotting in hiding areas such as in mattress or furniture seams – this spotting looks like black pepper that will smear if you try to wipe it.
• Egg shells/molted skin
• Waking up to bites that are like small hard welts, usually in clusters of three or four on the arms and shoulders
Do bed bugs bite?
Yes, bed bugs can leave red bites on your skin.
Although bites are a sign of bed bugs, they shouldn't be the deciding factor. There are many other pests that leave a similar irritation on the skin, such as carpet beetle larvae, which even look similar to bed bugs. Also, the bite marks are an allergic reaction to the bed bug's saliva, and not everyone is allergic, which is why if a home is infested with bed bugs, it seems as if some residents get "bitten" and some don't. The reality is, the bed bugs are likely feeding off everyone in the home.
When can you service my home
At Blue Beetle Pest Control, we guarantee ultra-fast service. We understand that pests like roaches, wasps, and rodents can be a health and safety concern to your family. Call us today and one of our pest control heroes will show up to protect your home and keep your family safe. We offer same-day service Monday through Friday if you call before noon.
Are your pest control products safe?
The safety of your family is our number one concern. At Blue Beetle, we only use eco-friendly, children and pet safe products that are only a threat to insects. We are fully transparent about the products we use in your home.
Which pests will you keep away from my house?
Our happy home programs cover up to 20+ pests, including: Ants, fleas, mice, rats, beetles, oriental, German and US cockroaches, crickets, flies, gnats, house spiders, brown recluses, silverfish, carpenter bees, carpenter ants, wasps and yellowjackets, millipedes and centipedes. Termites and mosquitoes can be added as additional protection. For other pests like bed bugs, call or text today at 
816-333-PEST (7378)
Which areas do you service?
We service the entire Kansas City metro area such as
Kansas City, MO
Leawood, KS
Overland Park, KS
Olathe, KS
Lenexa, KS
Prairie Village, KS
Lee's Summit, MO
Independence, MO
Do you control and treat honey bees?
Honey bees are an endangered and protected species and therefore need special care to remove and relocate the hive. They cannot be exterminated like other common stinging insects as they play a very important role in the ecosystem. For professional bee removal and relocation, please visit 
KCBeeRemoval.com
 Tell them Blue Beetle sent you!