"Corey was excellent! He was professional, respectful, and personable. I loved talking with him and I learned a lot. He was able to answer all my questions and address my concerns."
Ashley E.
$20 Off
Take advantage of our special offer and get full pest protection for your home, all year long.
Schedule Your Pest Inspection!
Termite Inspection & Treatment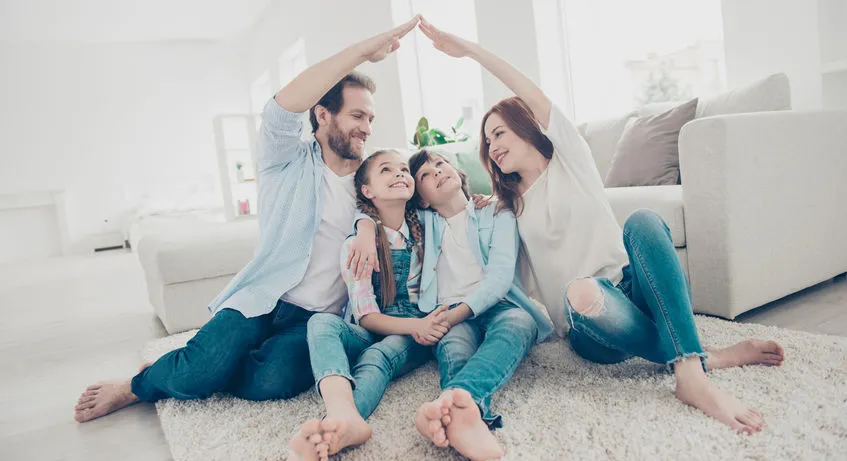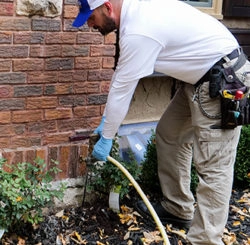 Immediate Termite Solution
Once termite activity has been confirmed in your home, it's critical to get a treatment done to prevent any additional damage.
Liquid treating the area where termite activity is seen guarantees total colony elimination, all the way up to the queen.
Our pest control technician will assess the extent of the infestation and create a personalized treatment plan for your home.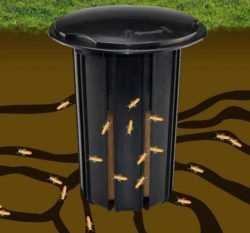 Termite Bait Station Monitoring
The average home in Kansas City has 3 to 5 termite colonies foraging in the ground around it, which means it's important to constantly monitor termite activity around the home.
Once the immediate treatment solution has been applied, we'll install monitoring bait stations around the perimeter of the home. These stations stop termites before they get to your home, and give us the opportunity to treat the surrounding area before any new termite damage is done.
Is Your Home Currently Infested by Termites?
If your home has live termite activity, we recommend:
If you want to protect your home from a future infestation, we recommend:
Why Blue Beetle Pest Control for your home
We understand the importance of keeping your family safe and your home pest free all year long. Our highly trained technicians use eco-friendly, non-toxic treatments that are 100% safe for your children and pets.

With Blue Beetle, it's always safety first!
Our Basic, Premium and One-Time Happy Home Program services are pet-safe, eco-friendly, and they're less toxic than table salt.

Your satisfaction is always 100% guaranteed
You can rest easy, knowing that we back up our work with our 100% guarantee. If for some reason you aren't satisfied, we'll keep working until you are.

Blue Beetle has a proven track record!
800+ 5 star rating on Google and awarded Best Pest Control in KC 2018, 2019, 2020 AND 2021.
Frequently Asked Questions About Termites
What are the most common termites in Kansas and Missouri?
Do you provide Wood Destroying Insect (WDI) reports and inspections?
We do! If you're buying or selling a property and it hasn't recently been treated for termites, chances are the bank has asked you for a Wood Destroying Insect (WDI) Report.
This is a formal report that a licensed technician will have to provide for you after thoroughly inspecting the property. The report will state if any areas of the property either have living termites or has signs of previous termite activity, and whether or not the technician recommends treatment.
When can you service my home
At Blue Beetle Pest Control, we guarantee ultra-fast service. We understand that pests like roaches, wasps, and rodents can be a health and safety concern to your family. Call us today and one of our pest control heroes will show up to protect your home and keep your family safe.
We offer same-day service Monday through Friday if you call before noon.
Are your pest control products safe?
The safety of your family is our number one concern. At Blue Beetle, we only use eco-friendly, children and pet safe products that are only a threat to insects. We are fully transparent about the products we use in your home.
Which pests will you keep away from my house?
Our happy home programs cover up to 20+ pests, including: Ants, fleas, mice, rats, beetles, oriental, German and US cockroaches, crickets, flies, gnats, house spiders, brown recluses, silverfish, carpenter bees, carpenter ants, wasps and yellowjackets, millipedes and centipedes. Termites and mosquitoes can be added as additional protection. For other pests like bed bugs, call or text today at 
816-333-PEST (7378)
Which areas do you service?
We service the entire Kansas City metro area such as
Kansas City, MO
Leawood, KS
Overland Park, KS
Olathe, KS
Lenexa, KS
Prairie Village, KS
Lee's Summit, MO
Independence, MO
Do you control and treat honey bees?
Honey bees are an endangered and protected species and therefore need special care to remove and relocate the hive. They cannot be exterminated like other common stinging insects as they play a very important role in the ecosystem. For professional bee removal and relocation, please visit 
KCBeeRemoval.com
 Tell them Blue Beetle sent you!