"Corey was excellent! He was professional, respectful, and personable. I loved talking with him and I learned a lot. He was able to answer all my questions and address my concerns."
Ashley E.
$20 Off
Take advantage of our special offer and get full pest protection for your home, all year long.
Schedule Your Pest Inspection!
Wasp and Yellowjacket Exterminator
Wasps in Missouri and Kansas
Yellowjackets and wasps are some of the more dangerous pests to find in and around your home. They can be highly aggressive and like to build their nests tucked away. They tend to be attracted to your home because of all the nooks they have to choose from. You will often see a nest in attics, between walls, under eaves, and inside recycling bins where sugars are common.
Both wasps and yellowjackets are aggressive and, unlike bees, they can sting multiple times plus they have a tendency to bite. Yellowjackets are responsible for most of the stinging deaths in the US. So, it is vital that you take care of them when they become a problem and that you do so safely and quickly.
How to Identify a Wasp Nest?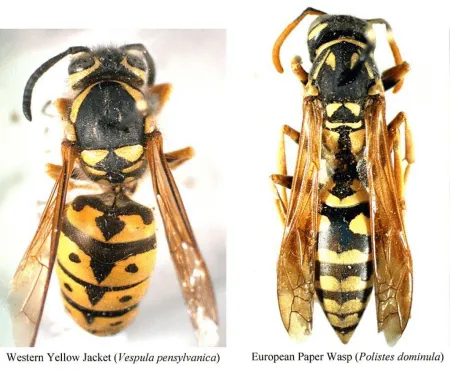 Wasps and yellowjackets are part of the bee family, but are much more aggressive and don't lose their stinger after the first sting. They typically don't have the fur that bees have and are much more slender and narrow. Most have yellow and black markings, but white and orange markings aren't unheard of. They range in size, but most are about an inch long.
You typically know you have a problem when you begin to see multiple wasps swarming around a certain area. Nests aren't always visible from the outside. Even if you haven't found a nest, if you start to see multiple wasps consistently buzzing around and hear crackling inside the walls or ceiling, it is time to look into treatment.
Best Wasp & Yellowjacket Treatment?
A "do it yourself" approach to yellowjacket removal works well for small problems when you have the proper protective equipment, but these are dangerous pests to deal with on your own. They are one of the most aggressive wasps and if you upset them and aren't prepared you could be putting your life at risk. This is why we often recommend calling in professionals to handle wasp or yellowjacket infestations, especially if they are inside or the nest you are wanting to be removed is mature. Blue Beetle's expert technicians are equipped to safely handle such situations and prevent you or a family member from risking their lives to remove these dangerous pests.
An even better approach to wasp infestations is prevention. Keep your family safe by ensuring that wasps don't get a chance to set up their hive near your home.
Our Happy Home Program ensures that your home is always protected from infestations from the start. At Blue Beetle, we use a highly effective, family, and eco-friendly pest management approach that brings you the quick results you expect along with the long-term protection you deserve. Schedule a pest control service online today and receive $20 off your service.