"Corey was excellent! He was professional, respectful, and personable. I loved talking with him and I learned a lot. He was able to answer all my questions and address my concerns."
Ashley E.
$20 Off
Take advantage of our special offer and get full pest protection for your home, all year long.
Schedule Your Pest Inspection!
Cockroach Exterminator in Kansas City
Cockroaches in Missouri and Kansas are an extremely common infestation in homes. They tend to be present wherever they can find food, so you typically find them around exposed food and crumbs. While the cockroach itself won't harm you, they carry pathogenic microbes that cause food poisoning and other illnesses. Many people are also allergic to cockroach excrement. This can lead to the development of serious health problems.
If you live in a townhouse or apartment the infestation might not be your fault. Once in a building, cockroaches tend to roam. Usually, if your neighbors have cockroaches, you have cockroaches.
What Kind of Cockroaches Are You Dealing With?
Cockroaches vary in size and color, but they commonly are flattened, brownish, fast-running insects, with long, slender antennae. They are nocturnal and love dark, damp places.
You might also spot their droppings before you see them. They leave behind tiny pellets, like that of mice, but smaller. It will be left behind in areas where they might congregate. Cockroaches don't usually have a hive or colony like other insects, but they do congregate in dark damp areas.
If you see a cockroach during the day, you almost definitely have an infestation.
German vs American Cockroaches
German cockroaches are typically smaller than their American counterparts. American cockroaches are also darker in color and are often found outside the home, in crawl spaces, basements or inside shower drains. German cockroaches tend to be more frequent and hide in kitchens and bathrooms.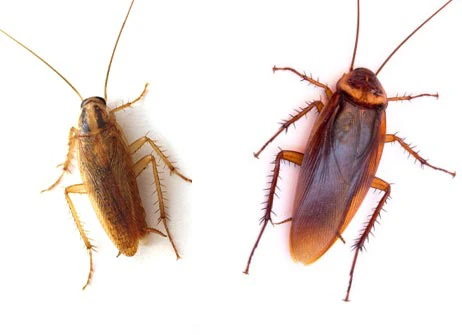 How To Treat a Cockroach infestation?
Cockroaches are one of the hardest pests to eliminate. They don't have a nest or shared food, so leaving out poison doesn't guarantee to eliminate all of them. They have a high survival rate and can be very difficult to target. It's helpful if you can find where they congregate, but that still doesn't ensure that you will kill them all. German roaches are especially hard to control. They have a high survival rate and reproduce very quickly.
Typically if you see a cockroach or two, it's time to call in a professional, but they can still be very tricky to fully remove, especially if you live in an older home. Prevention is usually the best option when it comes to cockroaches.
If you want to make sure your home is protected against all cockroaches, check out our Happy Home Program. We use family and pet friendly products, hard on bugs and safe for the environment. Call us anytime before noon and get same day pest control!
Print your Roach Treatment Checklist (PDF)