Owning a home in Kansas City is a source of pride and comfort. But lurking in the shadows are the infamous troublemakers known as termites, ready to wreak havoc on your beloved abode. Fear not, though, because we've got your back! In this comprehensive guide, we'll tell you everything you need to know about termite inspections in Kansas City—what they're all about, how much they'll dent your wallet, how long they'll keep you on your toes, and what to do if those pesky critters crash your home sweet home. So grab a cup of coffee, sit back, and let's dive into the world of termite protection!
What is a Termite Inspection?
Termite inspections are your secret weapon in the battle against these tiny terrors. Think of them as an intensive health check-up for your house. Certified pest control experts will comb through every nook and cranny, on the lookout for signs of termite infestation or the damage these unwanted guests leave behind. They'll be sniffing out mud tubes, discarded wings (not the delicious kind), and evidence of their feast on your woodwork. These inspections are all about catching those sneaky culprits before they turn your home into their personal buffet.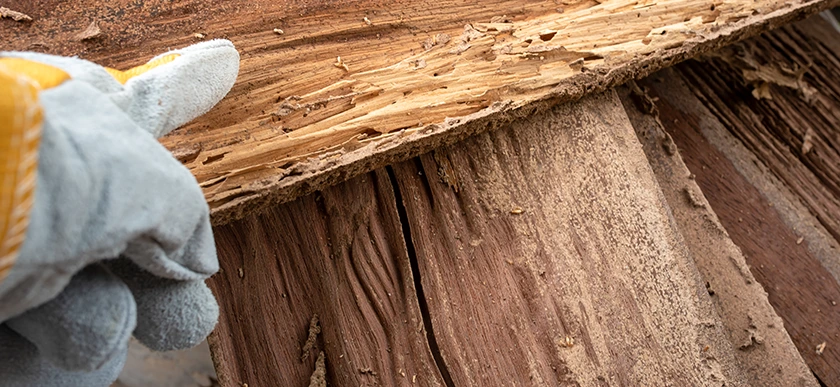 Did You Know?
Termite inspections can save you money beyond protecting your home from damage. Some insurance companies offer discounts on homeowner's insurance policies when regular termite inspections are conducted.
By demonstrating that your home is termite-free or properly treated, you may qualify for reduced premiums. It's a win-win situation that provides peace of mind, preserves your home's value, and puts some extra cash back in your pocket. Check with your insurance provider to see if they offer this money-saving perk!
How Much Does a Termite Inspection Cost in Kansas City?
Money matters, we get it. When it comes to termite inspections in Kansas City, the cost can vary depending on factors like the size of your property and the scope of the inspection. On average, you can expect to invest between $75 and $150. Keep an eye out for pest control companies offering free inspections, but remember that additional charges may be bundled with their termite spot treatment plans. To avoid any surprises, it's a good idea to ask about potential extra costs upfront.
How Long Does a Termite Inspection Take?
You're probably wondering if a termite inspection will consume your entire day. Fear not, dear homeowner! Typically, these inspections won't have you twiddling your thumbs for long. The duration depends on factors such as the size and complexity of your home. In most cases, a thorough termite inspection can be completed within 30 minutes to a few hours. It's best to consult with the pest control company beforehand to get a better idea of the estimated time required for your specific situation.
What If Your House Fails a Termite Inspection?
Take a deep breath and don't panic if your house falls short on the termite test. It's not the end of the world, and we've got a game plan to tackle the situation head-on. Our pest control experts will provide you with a detailed report outlining the extent of the infestation and recommend the best course of action. Depending on the severity, they may suggest localized or full-structure termite treatments. The goal is to evict these unwelcome visitors and restore your home's peace and integrity.
Rest assured, you're not alone in this battle. Termites are quite active in the Kansas City metro area. With its diverse climate and abundant moisture, it creates the perfect breeding ground for these pesky critters. They thrive in the humid conditions, feasting on the wood structures of homes and buildings without discrimination.
Congratulations! You're now armed with all the knowledge you need to conquer the world of termite inspections in Kansas City. By understanding their purpose, costs, duration, and next steps if things go awry, you're well-prepared to protect your home.
Let Blue Beetle Take Care of Your Termite Inspection
If you need a termite inspection in the Kansas City metro, give us a call or text at 816-333-7378. Do your research and compare our services to other pest control companies in the area.
We offer same-day pest control service if you call before noon (M-F). Let us show you why we were voted the best pest control company in Kansas City by The Pitch for the past 3 years.