Do you have uninvited guests that won't leave no matter what you've tried to do to get them to leave? Pest control can be a difficult situation to deal with. It disrupts the tranquility of your home and makes you feel uneasy as you rest. It is a problem you want to deal with immediately which can make you feel rushed and overwhelmed when making a decision on what pest control company to choose.
Here is a guide to help you through the decision-making process.
How to Research Pest Control Companies Near You
Here is a list of factors you should look for when researching pest control companies:
Is the company licensed to work in your address?

Is the company bonded?

Does the company properly train their employees?

How many reviews does the company have on Google?

Does the company have an updated website?

How did the representative talk to me on the phone? Did I feel valued and respected?
The license of a pest control company validates they meet the qualifications imposed by your local governments. The bond ensures that a pest control company will pay for any damages that may occur when the company services your home or business. The license and bond show that the pest control company you are researching is credible and will protect your assets should something go wrong with the service.
The training will show that the technicians are staying up to date with the best pest control practices and are constantly learning.
The reviews on Google and the appearance of their website will show you what was the experience other people had with their company and how many people have used their services. You can trust a company with hundreds of positive reviews more than a company with tens of positive reviews. The bigger number of reviews will establish that the pest control company has provided quality service. The quality of their website will show you the level of professionalism of the company. Is there website up to date and gives you the information you need directly? If so, you can expect the company to be direct and provide you with a positive service.
Finally, how did their customer service representative make you feel when you called them for a quote? You should feel valued, respected, and have a clean understanding of the plan proposed in your time of need by the customer service representative.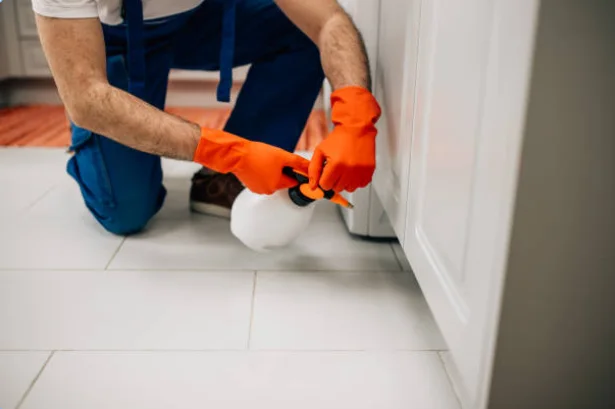 Take all these Factors and Compare Quotes
Now that you have what to look for in a pest control company, gather 3 different quotes to compare from the top 3 companies you found doing your research. Compare the follow factors:
What services they will provide to resolve your pest problem?

How long will the service take?

When will they be able to provide the service?

Will we need to vacate the building and for how long?

How much does the service cost?

Is there any guarantee or free follow up services if the problem comes back?
Some pest control companies maybe selling you a more expense and time intensive solution than you what you need. Getting multiple quotes will make sure you can identify a company that is trying to squeeze money out of you compared to a company that is looking out for you as a client in your moment of need.
Contact Blue Beetle Pest Control for a Free Quote
If you are experience pest problems and need professional help, give us a call or text at 816-333-7378. Do your research and compare our services to other pest control companies in the area.
We don't want you to deal with pests for longer than you need to. We offer same-day pest control service if you call before noon (M-F). Let us show you why we were voted the best pest control company in Kansas City by The Pitch for the past 3 years.