Winter brings relief from mosquito bites and other bugs we have to deal with throughout the rest of the year. Lower temperatures mean hibernation for many plants and wildlife, but it doesn't mean you're pest free. Many pests start to look for warmer temperatures, wherever they can, including your home. Winter provides relief from bees, flies, and mosquitoes, but it also makes your home that much more inviting to unwanted guests.
Mice, cockroaches, and spiders are all looking for an easy way to stay warm and your home is very enticing. It's never too late to take action, so here are some easy steps you can take to keep your home pest free this winter.
Here is your guide to winter pest control this year:
Seal Up Your Home
Make sure all cracks and crevices are sealed to the best of your ability. Pest have a knack for squeezing through tight spaces, so don't assume a crack is too small.
Check these common entry points:
Gaps in entry points where gas, water, electrical, and data lines enter your home.
Cracks in the wall, floorboards and baseboards
Cracks in the foundation
Openings around windows and doors
Improperly sealed sink and bathtub drains
Basements or crawl spaces
Dryer vents
Damaged roofing and uncapped chimneys
You can seal off many of these problematic areas with caulk or steel wool, just make sure the caulk or steel wool takes up the entire gap or crack. Steel wool tends to work better than other options because mice aren't likely to chew through it.
Expanding foam is another option to keep mice out, especially in harder to reach areas. It works best when you pack the hole with steel wool first.
Additionally, replace any damaged weather stripping on your doors and windows and any damaged screens.
Not only will this help keep pests out, but it will also keep your heat in!
Remove 'Homey' Locations
Pests are natural hiders, and look for locations they can nest under without being seen. So make sure you keep any clutter picked up and store boxes on shelves when possible, especially in storage areas. Also make sure to keep these spaces as dry as possible.
Clutter is a sure way to let spiders find a hiding spot in your home. See how to get rid of spiders in your home.
Make sure to keep food sealed in airtight containers and put away and sweep up any crumbs, which could attract rodents. You don't want to inadvertently provide breakfast to these pests.
This will prevent your home from looking too inviting to your unwanted guests.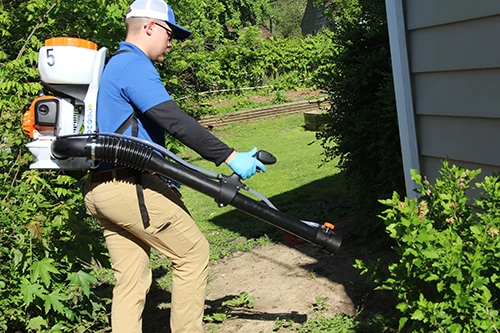 Don't Ditch the Yard Maintenance Just Yet
Winter brings a reprieve from mowing, weeding, and trimming, but you aren't completely done with yard maintenance. Move any dried leaves or branches away from your home and keep your trees and hedges trimmed to prevent pests from easily getting close to your home. Wood piles should be kept away from your home, as they are very enticing to pests of all kinds. It's suggested that all wood piles should be kept at least 20 feet away from your home.
You don't want to give pests a nice place to hide while they look for an entry into your home.
Winter is the time to curl up with your family and enjoy your home. So take these easy steps so you feel safe, cozy, and pest free this winter.
Let Blue Beetle Handle Your Winter Pest Control
If you are experience pest problems this winter and need professional help, give us a call or text at 816-333-7378. Do your research and compare our services to other pest control companies in the area.
We don't want you to deal with pests for longer than you need to. We offer same-day pest control service if you call before noon (M-F). Let us show you why we were voted the best pest control company in Kansas City by The Pitch for the past 3 years.